Academic Year │SP 20
Studio │ Design Studio_Ethiopia [Travel]
Team │ Sophie Lee, Hala Abukhodair, Eleni Kalapoda
Local Partners │ EiABC Student_Gemechu Fikru, Professor_Alazar Assefa Wondim
Akaki Village Residents/Gelan Condominium Office Staff_ Melat Daniel, Elsabet Adugna
Faculty │ Kate Orff, Geeta Mehta, Thaddeus Pawlowski, Lee Altman
Dilip Da Cunha, Julia Watson, Adriana Chavez, Fitsum Gelaye
Location │ Akaki, Addis Ababa, Ethiopia
Program │ Water Urbanism in Great Rift Valley
"
Re-conceive Akaki lowlands as a regional water filtration park and working landscape"

This project proposed that the City of Addis re-conceive the Akaki basin lowlands
as a regional water filtration park and working landscape, critical to maintain for the city's future water security. 
Addis Ababa is located on a mountain plateau, and Akaki is located at the base. 
Akaki sits on the boundary of Addis Ababa and Oromia region and is a vital supply gateway of agriculture and water.

Akaki Regional Trust networks aspires to activate and preserve the Akaki lowlands, reimagining this space as a vital part of Addis Ababa's vision of a resilient city.
Challenges in Addis Ababa, Ethiopia
Rapid urban growth has expanded into Akaki's productive land and manipulated the river's terrain and tributaries in unnatural ways. The Akaki River system has been reduced to an open sewer, increasing flood damage and adversely affecting the Oromia Region further downstream. The significant agricultural activity in Akaki supplies goods to Addis Ababa. Urban growth has polluted the river, resulting in the production and distribution of contaminated food across the city, putting Addis Ababa's food security at risk. The river's tributaries traditionally sustained ecological and productive functions such as absorbing excess water. These now face degradation due to the increase of impermeable surfaces. The use of concrete also diminishes Akaki's natural water catchment area and increases surface runoff, placing the region at higher risk of dangerous flooding.
Challenging the Masterplan
This project challenges the existing master plan which is based only on land use, neglecting ecology and hydrological systems.
Our counter proposal to the masterplan is to consider Akaki as an area of high, middle and low grounds, and propose appropriate uses for these topographical conditions that can lead to sustainable development and flood management.
Addis Ababa: Existing Condition and Design Trigger
Our project tackles the flood risk challenges, food and water insecurity, and development-induced displacement of people out of the city center. Our project creates an entity that manages Akaki's resources, including critical infrastructure for regional water infiltration and groundwater recharge with agriculture and housing overlays.
Akaki: Existing Condition and Design Trigger
Similar to the overall Addis Ababa transect, we've identified high, middle, and low grounds within the Akaki lowlands. Here we introduce a system that enables the beneficial co-existence of housing and productive landscapes, including agriculture and water. The proposed network of high, middle, and low grounds will result in nature-based solutions for resilient river programs and urban transformation on multiple scales.
Current Masterplan in Akaki
Most wastewater discharge points from the existing sewer system flow into the river. These are the main source of stream pollution in Akaki.
Other issues and sources of pollution are highway construction in the river buffer zone, the increased risk of flooding compromising agriculture land, and housing settlements.
The

Akaki Regional Trust is proposed as a consortium of networks that includes the community, an educational institute and the city government to operate, maintain and manage proposed interventions in the interest of all stakeholders. 
We propose an integrated system to improve on the master plan-induced problems. Our proposal includes: cleaning and purifying the wetland network for wastewater and stream pollution, creating a flexible, productive network for agriculture and recreational purposes, and developing a resilient and inclusive urban network for both existing and new housing typologies.
We have proposed tools for cleansing and productive landscape networks accommodating different urban levels ranging from community to regional scale. Resilient housing typologies have been proposed for relative high grounds, while strategies have been developed for the middle ground and low grounds.
A_Cleansing Landscape

Clean/Filter
By locating densely built mixed-use and mixed-income areas on the high ground, we propose a productive and cleansing flexible landscape of filtering streams, natural wastewater treatment processes, storm-water management, and agriculture. The cleansing landscape we have proposed is a nature-based network with constructed wetlands and terraced bio-purification system. In addition to cleansing, this network provides a year-round irrigation system for agriculture. It incentives local people to help clean and recycle solid and plastic waste in exchange for social capital credits.
B_Productive Landscape 

Produce/Recharge
We propose a productive landscape strategy that includes diverse typologies of agriculture, expansive cleansing forests and storm-water retention with phytoremediation farms of various scales according to topography. Our productive landscape will create hubs for industries around multiple cycles of agricultural activities. The network starts with reforestation efforts and providing tree nursery and forestry jobs. Reducing flood risk through forestry allows farmers to diversify and expand production in both the dry season and the wet season.
High and low grounds have been identified on the creek scale for implementation of new housing typologies and hydraulic and landform-altering strategies. Spaces for civic, ecological, economic, and cultural amenities are included. These will create new livelihood opportunities inside the expanding informal settlements. Flexible residential housing consists of modular units and will help preserve the cultural identity. Their evolution over time—connections through sky bridges for circulation and public space opportunities—will ensure a variety of experiences already found in the community, and the units are flood resilient. Additional programs focusing on urban agriculture, water harvesting, and eco-construction skills training promote new livelihood opportunities.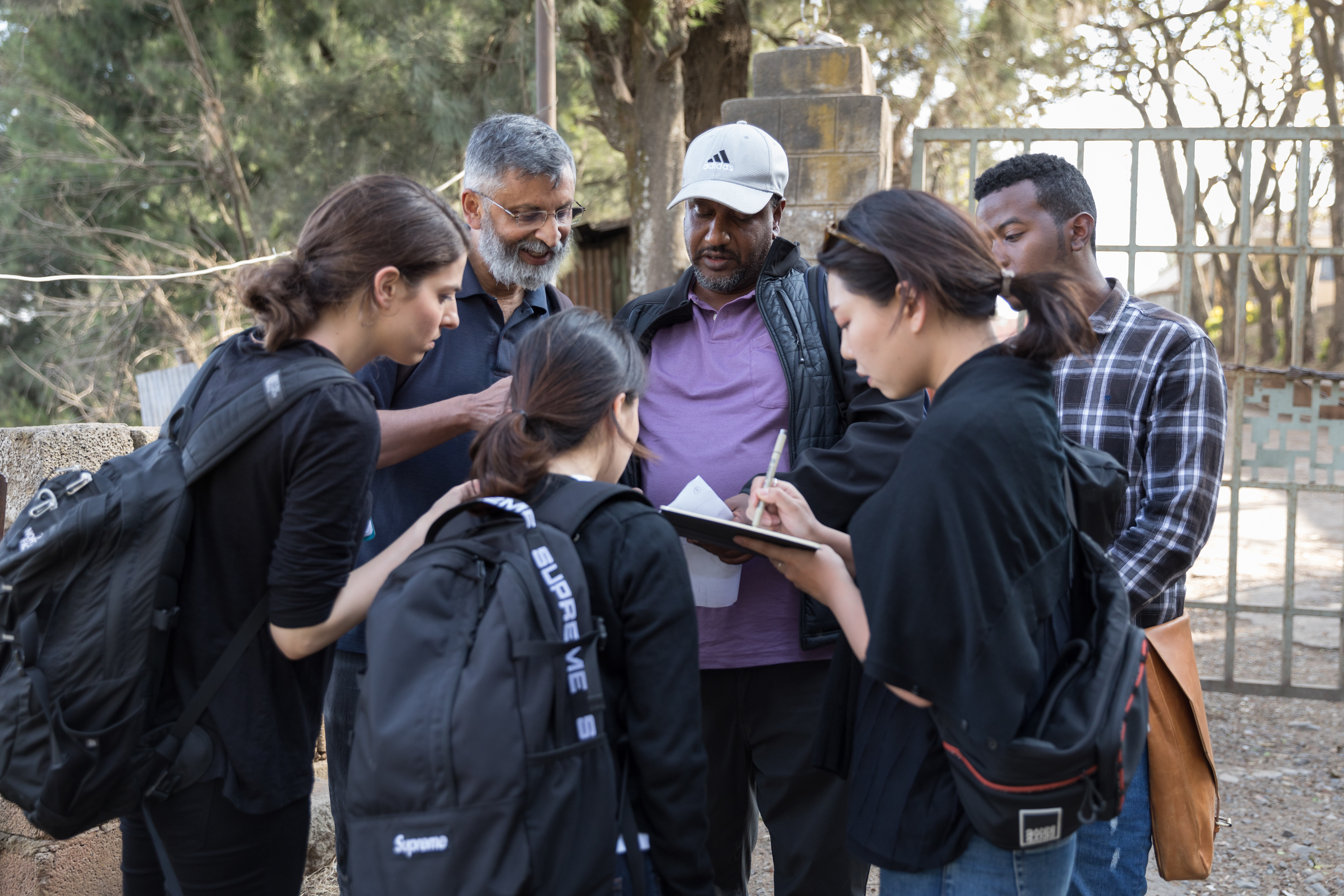 Extra Work_ Object in Addis Ababa